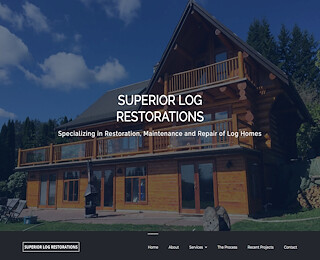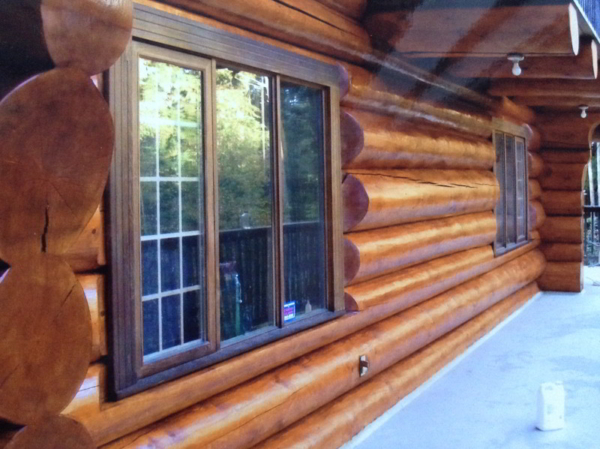 Superior Log Restorations provides exactly what their name implies- superior log cabin restoration throughout all of Fraser Valley. If you own a log home and require restoration services, maintenance, repair, chinking or sealing, sanding, staining, or log replacement contact Bill or Eric Ristau at 778-344-9598.
If you require restoration services to your log cabin, there are probably numerous questions you want answers to. A few of the most common questions for log cabin owners include: How is the existing finish removed? What are the costs involved in restoration? How long is the process?
For log cabin restoration Fraser Valley, Superior Log Restorations uses the hand grinding process to remove the old stain and deteriorated wood. While there are other methods that can be used, including media blasting and chemical strippers, Superior's log cabin restoration in Fraser Valley believes sanding is still the best method to bring logs back to their original beauty. 
Hand grinding, or ozzying, offers many advantages over other methods, including:
Leaving a much smoother surface to work with

Being much easier to clean up from

Provides the most eco-friendly means of getting the job done

Paves the way for easier cleaning down the road

Offers the best surface for the finish

Properly prepares the wood for absorbing stain, reducing costs later on

Is the best choice for Superior's log cabin restoration customers in Fraser Valley.
As log cabin restoration experts in the Fraser Valley area, Superior Log Restorations offers their years of experience and expertise to your restoration project. They can assess the level of restoration your home needs and help you understand the repairs that need to be made to your log home in order to be certain it will weather the elements and withstand the generations to come.
Whether your log home has been neglected, has settled over the years and requires repairs to address its settlement, or has been damaged in one way or another, Superior Log Restorations can handle the size and scope of your project with the knowledge and skill to get the job done right.
If your log home has suffered damage from insects, woodpeckers or rodents, this type of damage is easily visible, which is one of the advantages of owning a log home. Since this damage to the wood is almost always exposed, it can be repaired during restoration.
Investing in the restoration of your log home is in almost all cases worth the cost involved. For an on-site consultation with Superior Log Restorations, please call 778-344-9598. Bill and Eric Ristau will give you their professional recommendation as to whether a restoration will be worth your investment, and will be happy to answer any other questions you may have with regard to your log cabin restoration.
The best way to keep from having to perform a restoration is to properly maintain your log home from year to year. If you have recently acquired a log home that has been neglected, restoration may be your only option to bringing it back to a condition where it can provide beauty and function to its owner again. Contact Superior Log Restorations at 778-344-9598.
Log Cabin Restoration Fraser Valley
Superior Log Restorations
604-866-1460
33339 Westbury Avenue, Abbotsford, BC V2S 1C4 Canada
View Larger Map