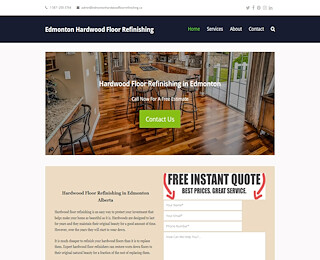 Flooring Services Edmonton
Your floors take on a lot in a lifetime. From the time they are installed you count on your floors to provide your home with a sense of beauty and strength so you and your family can live comfortably. Floors can be an investment, and the best way to protect that investment is to make sure they are taken care of. 
There are a few ways you can take proper care of your hardwood floors. We are expert hardwood floor contractors in Edmonton and are experienced in helping people get the most out of their investment. Here are some of our hardwood flooring services in Edmonton. 
Hardwood Floor Refinishing
Hardwood floor refinishing is one of the best ways to keep your floors looking beautiful and to maintain their health over a lifetime. Refinishing floors can save you money when compared to replacing them, and will make them look basically the same as they did when they were brand new. You can make floors last up to 80-100 years and they can be refinished 4-5 times in a lifespan when done properly. 
Hardwood Floor Repair
Floors sometimes take on damage and wear that requires the replacement of floor boards. When this happens, we can replace the planks that are damaged and put new ones in. Depending on how old your floors are, the new boards may look a little bit different from the rest of the floor. Once things are finished and the final coats are put on, you won't even notice the different boards as it sometimes adds a different aesthetic to the floor. 
Hardwood Floor Sanding
Hardwood floor sanding is one of the most important aspects of a refinishing project. If you get the sanding job done right, then your finish will be smooth and perfect. But, if not, you'll have particles and an uneven surface at the end. We offer sanding services for people who want to do their own finishing so they can ensure that the floor is perfectly sanded and ready to coat.
Hardwood Floor Finishing
Finishing the floors is the final piece of the puzzle. From the sealer to the finish coats and stain, this is where the beauty of the floors is really shown off. If you've got your floors already sanded, then we can come by and finish them off to make sure that the right amount of product is used on your flooring so they will look amazing at the end.  
Hardwood Floor Installation
If you've bought a new floor, then you can hire expert hardwood floor installation contractors in Edmonton. Getting your floors installed properly will ensure that they are in the right place and are going to look absolutely perfect for years to come. Get this step of the process right and you will have nothing to worry about with your floors. 
Flooring Services Edmonton