Log Home Restorations & Maintenance - Vancouver Island / Southern Gulf Islands
Take care of your log and your logs will take care of you!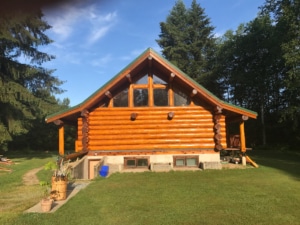 A log home offers a warm visual appeal and aura of comfort that blends seamlessly with the natural surroundings of Vancouver Island the Southern Gulf Islands. If you live in a log home, you understand the beauty and benefits, while appreciating the rustic style. As with any home, maintenance and renovations comes with owning a home. With a log home, there are specific types of restoration and maintenance that is needed to ensure your home maintains its value, look and structure.
Superior Log Restorations Inc. is a family owned and operated log home restoration, maintenance and repair company. While we're based in the Fraser valley, we regularly complete restoration projects in Vancouver Island and the Southern Gulf Islands.
Our services include interior surface restoration, staining, chinking, sanding, rot repair, log replacement and window and door replacement.
If you own a log home and are looking for log home maintenance or repairs in Vancouver Island or the Southern Gulf Islands, please give us a call. This is our business and we take our work seriously. It's important to the integrity of your home that any restoration work is done with the utmost care and attention. It is this level of service and attention to quality that makes us a leading Vancouver Island log home restoration company.
Timber Frame & Log Home Maintenance Services - Vancouver Island & Southern Gulf Islands
Superior Log Restorations specializes in timber frame and log home restoration. Our services are designed to keep your timber frame or log home well-maintained and looking its best. This includes:
Repair
Yearly maintenance
Chinking
Staining
Sealing
Sanding
Rot Repair
And more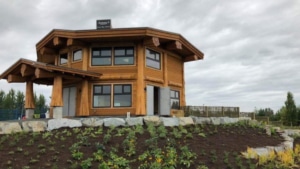 When you own a log home in Vancouver Island or the Southern Gulf Islands you know you're living in something uniquely beautiful, in one of BC's most beautiful locations. With a log home, maintenance and repair is much different than other types of homes. Proper care and maintenance must be taken to ensure damage down the road.
Superior Log Restorations offers experience and expert services to maintain and restore log homes in Vancouver Island, the Southern Gulf Islands and Vancouver and the Fraser Valley. As a family owned and operated business, brothers Eric and Bill have a combined industry experience surpassing 40 years.
If you own a log home and are looking for a trusted company to properly maintain and restore your home, give us a call. We provide yearly maintenance and any additional repair work that might be needed including rot replacement, chinking and sealing, sanding, and staining.
Do I Need Yearly Maintenance?
Proper, regular maintenance can help prevent a larger repair down the road. This is why we recommend yearly log home maintenance. You can extend the life of your home by undertaking a yearly maintenance program.
Your log home needs regular protection from the elements. The sun, water damage, air infiltration, insects and even rodents can all wreak havoc on a log home. By having professionals undertake this role, you can ensure your home continues to look and function like it did when it was first completed.
Service Area
Superior Log Restorations is based in the Fraser Valley; however, our service area extends far beyond our physical business location.  We regularly travel to Vancouver Islands and the Gulf Islands and enjoy working on the beautiful log homes in this absolutely beautiful part of our province.
Vancouver Island / Southern Gulf Islands including:
Salt Spring Island, Gabriola Island, Pender Island, Mayne Island, Galiano Island, Sidney Island
Vancouver Island Log Home Maintenance & Repair Services
If you need repair work done on your log home or are looking for a yearly maintenance package give the professionals from Superior Log Restorations a call.  You can reach us at 778-344-9598. We are happy to provide more information, a consultation and even a quote.